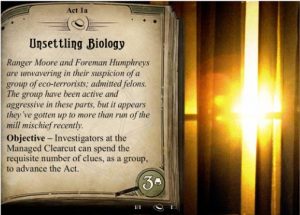 What did you think? Cast your vote below
Author/Creator : Justin B all credits goes to him.
This scenario is based off an X-Files episode of the same name ("

Darkness

 

Falls

") – having seen this episode is not a huge spoiler, as playing the story itself is fun, but if you are playing with someone who doesn't know the episode, let them be the lead and make the decisions.

I've only included the fronts of encounter cards in here so that you can just pop them into sleeves with extra encounter cards (like the ones in your extra core set, maybe?).
There is also a file in here called "Encounters-Reskinned-Fronts Only.pdf" – This file contains core set encounter cards that I just rethemed for this scenario. If you want to save some toner and paper, you can just use the Ancient Evils encounter set and the Striking Fear encounter set and just, I don't know, pretend they make sense thematically. All I did was reskin those cards to make them match the theme.
Enjoy!
My verdict:
| | |
| --- | --- |
| Background story: | (4.0 / 5) |
| Visual experience: | (5.0 / 5) |
| Overall experience: | (4.0 / 5) |
| Average: | (4.3 / 5) |