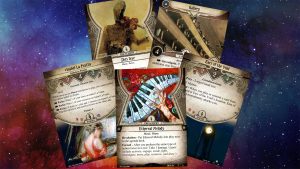 What did you think? Cast your vote below
Author/Creator : Axolotl all credits goes to him.
"But despite all I have done it remains an humiliating fact that I cannot find the house, the street, or even the locality, where, during the last months of my impoverished life as a student of metaphysics at the university, I heard the music of Erich Zann."
– H.P.Lovecraft, The Music of Erich Zann
***The Symphony of Erich Zann*** is loosely a sequel to Lovecraft's *The Music of Erich Zann*, similar to what the Dunwhich Legacy was to the Dunwhich Horror. The investigators must enter the Auseil Theatre, where the violist once performed, and stop an orchestra from playing his music.
This custom scenario can be played as both a standalone and as a side story to any campaign. (thematically works best as a side-story in the middle of Path to Carcosa). If you play as a side story, it costs each investigator 2 xp for a chance to get some nifty story assets.
In *The Symphony of Erich Zann*, the horror is not as tangible as in your previous adventures. The terror is in the overwhelming music that you hear throughout the theatre. Music treacheries do not discard themselves after a certain amount time – instead, there is a maximum amount of Music treacheries that can be in play at once, written on the agenda. When the maximum would be exceeded, you must discard the earliest Music treachery that was put into play. As such, the music will continuously flow and evolve as the investigators march forward into the theatre.
**How to play:**
– You can download these print and play files to print the scenario yourself or with a printing service. The Scenario Guide is included in the download.
– You can play this scenario on Tabletop Simulator following this link and the instructions there. https://steamcommunity.com/sharedfiles/filedetails/?id=2030415817
Hope you enjoy this scenario and I would love to read your feedback or criticism on any aspect of it! ~
My verdict:
| | |
| --- | --- |
| Background story: | (5 / 5) |
| Visual experience: | (5 / 5) |
| Overall experience: | (5 / 5) |
| Average: | (5 / 5) |