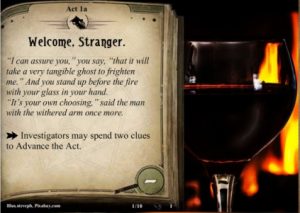 What did you think? Cast your vote below
The Red Room – A short scenario based on H.G.Wells' short horror story, "The Red Room". Designed for solo investigators, it has rules for group and campaign play (and an easy mode). Includes a card box and dividers sized for sleeved cards, and a PDF of the (public domain) short story itself.
Author/Creator : Visitor92 all credits goes to him.
My verdict:
| | |
| --- | --- |
| Background story: | (4.5 / 5) |
| Visual experience: | (4.0 / 5) |
| Overall experience: | (4.0 / 5) |
| Average: | (4.2 / 5) |