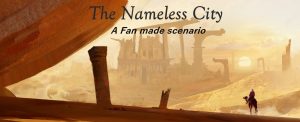 What did you think? Cast your vote below
Authors/Creators : Niccolò Sbaraini all credits goes to him.
The Nameless City is a stand alone scenario inspired by the anonymus Lovecraft's short story. The investigators have to explore the ruins and escape alive (maybe with some ancient relic in their hands).
This custom scenario can be played as both a stand-alone and as a side story to any campaign.
If you play as a side story, it costs each investigator 2 xp.
You can play this scenario on Tabletop Simulator following this link and the instructions there:
https://steamcommunity.com/sharedfiles/filedetails/?id=2483541917
Any comments and criticisms are welcome. I hope you enjoy the scenery.

My verdict:
| | |
| --- | --- |
| Background story: | (4.0 / 5) |
| Visual experience: | (4.5 / 5) |
| Overall experience: | (4.0 / 5) |
| Average: | (4.2 / 5) |