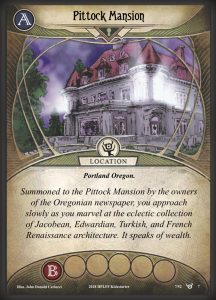 What did you think? Cast your vote below
Authors/Creators : Andrew Migliore and Nathan Early all credits goes to them.

Something is wrong in Portland, Oregon. Sailors have been going missing at an alarming rate and now a reporter for the Oregonian newspaper has disappeared. You have gotten a letter from Mr. Pittock himself requesting your sleuthing skills and reputation for getting cases solved. But beware, you might find yourselves in over your heads as you investigate the crime-ridden underbelly of Oregon's busiest port of call.
We wanted to introduce players to some historic landmarks of Portland, spotlight a wonderful artist friend John Donald Carlucci's work, and create a thrilling (and fun) adventure for this awesome community.
For Lurker in the Lobby, you will need to use a few encounters from the core set (Agents of Cthulhu & Swarm of Rats) as well as the Decay and Filth encounter set from the Path to Carcosa cycle.
We hope you enjoy playing this scenario as much as we had fun making it!

My verdict:
| | |
| --- | --- |
| Background story: | (4.5 / 5) |
| Visual experience: | (4.0 / 5) |
| Overall experience: | (4.5 / 5) |
| Average: | (4.3 / 5) |