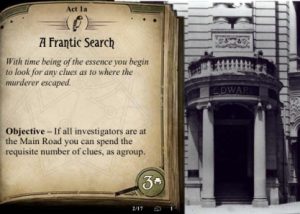 What did you think? Cast your vote below
Note from the author:
The full campaign is now complete. All six scenarios and the complete story are available for download.
Author/Creator : Kristofer Bengtsson all credits goes to him.
"And it came to pass in the days of the war, the days of the unyielding conflict, that I was praying, crying bitterly all through the night. And behold, at the break of dawn, it seemed as though all the unbelievers had gathered in a group before my mind's eye. And a man was hovering above them, surrounded by swirling clouds. The clouds grew dark and enveloped the unbelievers, and their bodies fell to a great basin and became a sea of bones."



Many are the unimaginable terrors that tear at the fabric of our reality, relentlessly probing for a way to break through. The increasing occult activities around Arkham have not gone unnoticed, and with it the number of men who would be seduced to aid these terrors grow as well. What began with Dr. Henry Armitage's undertaking in Dunwhich and the ensuing undertakings by his associates has turned the surrounding area into a beacon for the terrors from beyond to home in on. 





In The Approaching Storm your duty to help Dr. Armitage turns into a deadly game of hide and seek, as one of his colleagues is murdered in front of your very eyes. The first scenario has you chasing down the culprit through the less than savory parts of Arkham while the second sends you on a trip up the Miskatonic River in an attempt to connect the murder to the occult research which undoubtedly led to the demise of Dr. Armitage's colleague. It isn't long before you find yourself assailed by voices in your head, promising godly rewards if you only abandon your quest.
My verdict:
| | |
| --- | --- |
| Background story: | (4.5 / 5) |
| Visual experience: | (4.5 / 5) |
| Overall experience: | (4.5 / 5) |
| Average: | (4.5 / 5) |