What did you think? Cast your vote below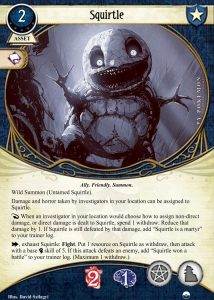 The author has asked me to not host his files, so you will have to download them HERE
Tabletop Simulator Workshop Link: HERE
Pokemon Eldritch Edition is a custom expansion for Arkham Horror the Card Game, available in print-and-play and Tabletop Simulator versions. It includes:
– A full 6-scenario campaign featuring creepy Pokemon.
– 2 side-stories that can be used in this or any other campaign.
– 5 new Pokemon-themed investigators.
– A whole ton of player cards including all 146 original non-legendary Pokemon (plus 2 extra Eeveelutions). You'll have to play the campaign and side-stories to learn about the legendaries.
=
– Rules for adding wild Pokemon to any campaign.
Author/Creator : Chris Ramsley all credits goes to him.

My verdict:
| | |
| --- | --- |
| Background story: | (4.0 / 5) |
| Visual experience: | (4.5 / 5) |
| Overall experience: | (4.0 / 5) |
| Average: | (4.2 / 5) |