What did you think? Cast your vote below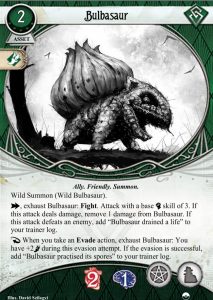 The author has asked me to not host his files, so you will have to download them HERE
What's in it:
151 Pokemon asset cards (No Mew or Mewtwo yet, but Espeon and Umbreon added to give each class an eeveelution). 36 can be taken as regular player cards, while the rest have to be caught in the wild.
5 new investigators.
A handful of other player cards.
A 6-scenario campaign. (There will eventually be 2 standalone scenarios that can be added to this or any other campaign as well, featuring Mew and Mewtwo.)
6 Pokemon encounter sets used in the campaign that can also be used to add some Pokemon to any scenario.
3 more generic encounter sets for the campaign.
Playtesting!
If you want to try this out, you don't need to print everything.
The Basic Player Cards folder has all the level 0 cards you can start with.
All you need to start adding Pokemon to any scenario is one of the 5 biome Pokemon encounter sets (cave, field, forest, town, or water) and the Rare encounter set (or just a few you like from it).
For the first scenario, you'll just need the Scenario 1 cards, and the Town, Rare, and Spatial Warp encounter sets.
You can then print any level 1+ cards as needed, when you upgrade cards. The ones that can show up in the wild are included in their encounter set folders as well.

Author/Creator : Chris Ramsley all credits goes to him.
My verdict:
| | |
| --- | --- |
| Background story: | (4.0 / 5) |
| Visual experience: | (4.5 / 5) |
| Overall experience: | (4.0 / 5) |
| Average: | (4.2 / 5) |