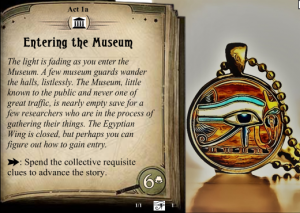 What did you think? Cast your vote below





(18 votes, average: 4.33 out of 5)


Loading...
Author/Creator : M M (Mat628) all credits goes to him.
This is an entire 3-part campaign. All cards are either in the image files or come from the core set.
When the campaign opens, you have just received a frenzied call from your good friend, Francis Morgan. He urges you to go to a museum in Beacon Hill in Boston to recover a relic he needs. After which you are to fly directly to Cairo to deliver it. In the second scenario you move on to your frenzied search for Dr. Morgan, transversing Cairo and attempting to save yourself from its citizens before the day, and time, expires! Then the campaign concludes underneath the Great Sphinx, where evil is being awakened. Unless you stop it!
| | |
| --- | --- |
| Background story: | (5.0 / 5) |
| Visual experience: | (4.0 / 5) |
| Overall experience: | (5.0 / 5) |
| Average: | (4.7 / 5) |
If you want to comment/add ideas for the adventures you can do so on BoardGameGeek HERE or comment below.