What did you think? Cast your vote below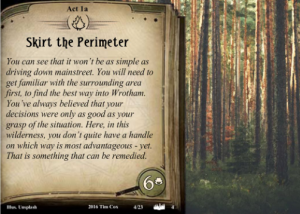 (34 votes, average: 4.41 out of 5)


Loading...
Author/Creator : Tim Cox (rushl) all credits goes to him.
My verdict:
| | |
| --- | --- |
| Background story: | (4.0 / 5) |
| Visual experience: | (4.0 / 5) |
| Overall experience: | (3.0 / 5) |
| Average: | (3.7 / 5) |
All is not well in upstate New York. Nestled deep in the forest blanketing the slopes of the Adirondacks, the small township of Wrotham provides a tiny, bright dot of civilization in the dark wilderness. Primarily focused on lumber, the citizens of Wrotham have lived a peaceful existence. But now, they face a horror beyond their abilities. Can you help?
Welcome to the North Country Cycle!
This is a three-part custom campaign for Arkham Horror: LCG. It is all completely new, from story and locations to brand new encounter decks for the township of Wrotham and the surrounding areas.
Part 1: Something bad is going on in the township of Wrotham. The first step to finding out what is to make your way into town – but that may not be as easy as you thought.
Part 2: Now that you've found your way into Wrotham, you'll have to deal with the emerging disaster – and make some hard choices.
Part 3: You must face the consequences of your decisions, and deal with the dangerous situation at hand.