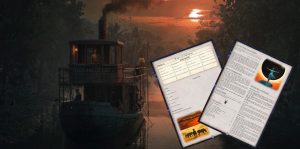 What did you think? Cast your vote below
"He struggled with himself, too. I saw it—I heard it. I saw the inconceivable mystery of a soul that knew no restraint, no faith, and no fear, yet struggling blindly with itself."
– Joseph Conrad, "Heart of Darkness"
Travel deep into the heart of the Congo and navigate its perilous waters aboard the Roi des Belges to discover the Heart of Darkness, an unofficial campaign for Arkham Horror: The Card Game.

The 3 scenarios of this campaign are an adaptation of the eponymous book by Joseph Conrad set within the Cthulhu Mythos. These scenarios can be played in standalone mode or as a 3 part side-story during any other campaign.
Bring back Kurtz from the heart of the Congo
You are recruited by a Belgian company operating in the Congo to recover Kurtz, their best fossilised ivory salvager. Kurtz has suddenly broken off all contact with the outside world, and attempts to bring him back have failed. If rumour is to be believed, Kurtz is protected by fierce warriors who worship him as a god.
Whatever the case, Kurtz has clearly lost his wits. You must set off for Africa, and once there lead an expedition aboard the steamship Roi des Belges to sail up the Congo River to dislodge Kurtz from his inland station.
Will you manage to bring him back alive, while avoiding succumbing to the strange dark entity that haunts the vast wilderness of the Congo?
The three scenarios in Heart of Darkness are:
Scenario 1: Africa is Watching
Scenario 2: To the Heart of the Congo
Scenario 3: The Avatar of Darkness
Julian, the Anthropologist
Julian spent his youth in South Africa, divided between safari expeditions led by his hunter father and the discovery of local cultures with his linguist mother at the University of Cape Town. His curiosity and natural ability to relate to the people he met led him to study social sciences and then to become a professor of anthropology at Miskatonic University. Since arriving in Arkham, Julian has made some disturbing discoveries while comparing his work on African tribes with other societies around the world. Dark rituals and ancient, unhealthy beliefs have uncanny similarities, which is unusual given their geographical and temporal distance. It is as if something beyond our understanding connects these people who have never been in contact with each other. Julian knows that to find the answers to his questions, he will have to return to the field sooner or later…
Julian is used to reaching out to others and listening to what they have to say about their culture, so he's good at Parley action. His signature cards can be activated when Julian is accompanied by other investigators, allies and even enemies if they are humanoid. Because of his profession, he is more likely to be an investigator than a fighter, but his experience of the bush means that he is physically more resistant than most Seekers.
You can play Julian the Anthropologist in arkham horror scenario. If you play the Heart of Darkness campaign, you'll have a slightly different gaming experience as Julian has a special connection with the spirits that haunt Africa…

Author/Creator : Vinn Quest all credits goes to him.

My verdict:
| | |
| --- | --- |
| Background story: | (5 / 5) |
| Visual experience: | (5 / 5) |
| Overall experience: | (5 / 5) |
| Average: | (5 / 5) |