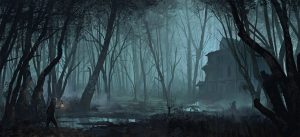 What did you think? Cast your vote below
First 2 Scenarios Here

Author/Creator : Ka Kei Wong all credits goes to him.
Last updated 11/6/2022
Disclaimer: Started this project a while back and have posted the 1st scenario some time ago. I've made some modifications since, thanks to some generous comments. This is my first attempt of making any custom content, so any feedbacks will be appreciated, gameplaywise, storywise, or the general writing, since English is not my first language and I'm not really a writer of any sort.
My largest concern is:
Doom threshold too easy/harsh for blindplays
Are the mechanics sound and comprehensible
potential overlooked bugs
The campaign starts with scenario 1 with a choice of choosing which to go next for the second scenario, but since I am making the scenarios one by one, some choices are not available at the moment. This campaign requires you to have the coreset to play, and it contains existing keywords of later expansions, such as swarm and patrol.
My verdict:
| | |
| --- | --- |
| Background story: | (4 / 5) |
| Visual experience: | (4 / 5) |
| Overall experience: | (4 / 5) |
| Average: | (4 / 5) |