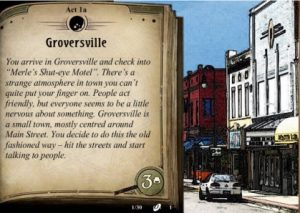 What did you think? Cast your vote below
Author/Creator : Ash (MrDodger) all credits goes to him.
Notes from the author:
"Strange events are happening in the town of Groversville, events that have come to the attention of The Program, aka Delta Green. You have been dispatched to the town to discover if there is an anomalous incursion underway and if so deal with it – with extreme predjudice."
Featuring 5 new modern-day investigators,  4 new encounter sets and a new 30 card "Green Box" deck of useful – and maybe not so useful – items and treacheries.
Note – this scenario can, depending on choices made,  potentially be quite combat-heavy. It's a good idea to have at least one capable fighter in your team.
All constructive criticism welcome and encouraged.
I hope you enjoy Delta Green – Convergence!
Ash, (MrDodger)
Existing users (thanks for trying this scenario) should use the enclosed ERRATACardDeck.zip and the Documentation.zip files. New users should use the download file, and the Documentation.zip files.
The errata cards changed after feedback include clarification on wording, corrected mechanical mistakes (Sinclair Gas – grrr!), some rebalancing and many corrected typos and formatting errors. This should (hopefully) be the final version, but users please let me know any glaring mistakes. Hopefully any further changes from this point forward should simply be cosmetic, and should not affect the functioning of the scenario.
My verdict:
| | |
| --- | --- |
| Background story: | (5.0 / 5) |
| Visual experience: | (4.5 / 5) |
| Overall experience: | (4.5 / 5) |
| Average: | (4.7 / 5) |