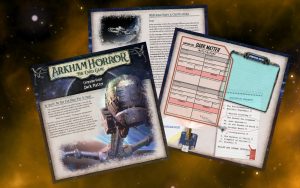 What did you think? Cast your vote below
Author/Creator : Axolotl all credits goes to him.
German translation by : Magnus Upmann grab it HERE
Dark Matter, a deep space scifi horror campaign and spiritual sequel to the Path to Carcosa. For more information, check out this article: https://mysteriouschanting.wordpress.com/2020/10/17/dark-matter-campaign/
In a not too distant future, humanity has begun travelling to the other planets of the solar system, searching for a new haven, and escaping the tendrils of what had happened on Earth. A cacophony of decay and madness is spreading throughout the solar system, from the distant echo of distress beacons, to the mysterious signals originating from the strange moons of Saturn and beyond. This future holds many secrets, and not everything may be as it seems – including your own memories.
My verdict:
| | |
| --- | --- |
| Background story: | (5 / 5) |
| Visual experience: | (5 / 5) |
| Overall experience: | (5 / 5) |
| Average: | (5 / 5) |