What did you think? Cast your vote below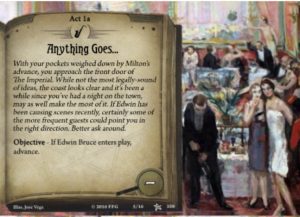 Part 3 : Bon Voyage
Part 2 : Enter the dragon
Part 1 : Bread and Circuses
Notes from the author:
"I've been working on custom scenarios off and on for the last year and have found the time to create final versions of the ones posted here. As I personally prefer to play the game on Standard difficulty, these scenarios have been tuned to be challenging when using the Standard chaos bag. Still, I know some players like to play on higher difficulties, so I've included a chaos bag set up for Hard and Expert. I haven't played them on these difficulties and would probably suggest against starting there, as I feel they would be too hard to remain fun. I'd love to hear about any play experiences, so please comment below if something comes to mind.
Updates:
6/15 – I've updated Bread and Circuses and Enter the Dragon based on some of the feedback provided. I've tried to keep the changes minimal, as to not significantly affect gameplay between versions. Here's a short list of the things that have changed:
1. Text changes have been made in the campaign text, correcting a lot of the typo and grammar issues. Hopefully most of the issues are gone. Thanks to Buzz and Bronze for pointing this out.
2. The searching effect on The Bar and The Back Booths has been changed to put the searched cards at the bottom of the rather than shuffling the deck. Another good suggestion from Buzz.
3. The enemy Lin Xingjuan in Enter the Dragon has been changed to only engage enemies through her game text when ready. This was how the card was originally intended to function. The spelling of this character's name has also been unified between Bread and Circuses and Enter the Dragon.
4. Skill icons have been added to story assets.
5. Gerhard Richter's text has been changed to specify once per game. This was caused by a textbox issue in photoshop and was originally supposed to function this way.
6. I've changed the art to The Red Room in Bread and Circuses.
7. I've included an alternate version of the Eyes of the Dragon treachery in Enter the Dragon. I haven't had a chance to actually play test it, but I wanted to include it as another option. Play with either, though I don't suggest playing with both."
Thanks again,
Matt
Author/Creator : MJGrenier all credits goes to him.
He has also created some very nice alternate investigators, you can take a look at them HERE
My verdict:
| | |
| --- | --- |
| Background story: | (4.5 / 5) |
| Visual experience: | (5.0 / 5) |
| Overall experience: | (5.0 / 5) |
| Average: | (4.8 / 5) |