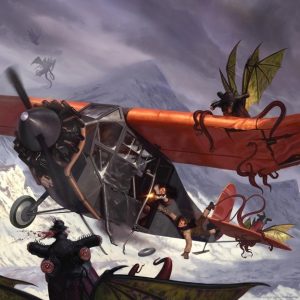 What did you think? Cast your vote below
The author has asked me to use his page for downloads instead of being hosted here, so use links below to download.
Author/Creator : Tim Fletcher all credits goes to him.
Campaign Guide (v0.3.3)
General Encounter Sets – required for all scenarios (v0.3.2)
Scenario 1: Boston Red Line (v0.2)
Scenario 2: The Voyage South (v0.2.1)
Scenario 3: Cold Heart (v0.3.2)
"It is altogether against my will that I tell my reasons for opposing this contemplated invasion of the antarctic, and I am the more reluctant because my warning may be in vain. Doubt of the real facts, as I must reveal them, is inevitable; yet if I suppressed what will seem extravagant and incredible there would be nothing left."
-HP Lovecraft, At the Mountains of Madness
There are places on earth yet unexplored and untamed. The most formidable of these is undoubtedly Antarctica, a forbidding, austral world where all the technology and arrogance of modern man means nothing against the neverending white expanse.
Betrayal at the Mountains of Madness is a full 8-scenario cycle for Arkham Horror: The Card Game. The first three scenarios are available to play now, and the rest are in development.
Learn more at the official blog.
My verdict:
| | |
| --- | --- |
| Background story: | (5.0 / 5) |
| Visual experience: | (4.0 / 5) |
| Overall experience: | (4.5 / 5) |
| Average: | (4.5 / 5) |