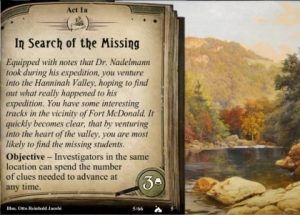 What did you think? Cast your vote below
If you want the French version, then you can download it HERE.
If you want the Italian version, then you can download it HERE.
"Against the Wendigo is my first custom stand alone scenario for Arkham Horror TCG. I translated it to from french to english with the help of 2 awesome proofreaders, Stephen W "St Cretin" and Matt A."bakunin888″.
This scenario is a sequel to the Call Of Cthulhu RPG add-on "Alone Against the Wendigo", a solo adventure written by Glenn Rahman, edited by Chaosium. Several months after the outcome of the original adventure, you explore the wild Hanninah Valley in Canada's far Northwest, looking for the missing students of Dr Nadelmann's expedition.
It is not necessary to know the original story to play this scenario. However, be forewarned that the North Hanninah valley is a wild and dangerous territory, from which many explorers have never returned…
You only need player cards from a core game box in order to play this 71 cards scenario (+1 cover card), no need for official encounters cards.
Please note that the scenario comes with a FFG-style campaign guide for special rules, setup and resolutions, you will need it in order to play.
You can play it as a stand alone scenario, or as an additional adventure in campaign mode for 2xp per investigator. "
Author/Creator : Vinn Quest all credits goes to him.

09-14-2020 Update log :
#08 and #09 Mountain Range : Card text should be "… You cannot move into the Mountain Range. Forced – If there are 2 clues on the Mountain Range (3 clues instead for a 3 or 4 player game): reveal it.
#11 Impenetrable Forest : Card text should be "… You cannot move into the Impenetrable Forest."
#16 Swamp : Card text should be "… You cannot move into the Swamp."
#17 Site of Ancient Stones : Card text should be "… You cannot move into the Site of Ancient Stones."
#19 Isolated Land : Card text should be "… You cannot move into the Isolated Land."
#22 Charlie Foxtail's Destiny, Choice #113:12 14/09/2020 : "this card" should be "Charlie Foxtail's Destiny"

My verdict:
| | |
| --- | --- |
| Background story: | (5 / 5) |
| Visual experience: | (5 / 5) |
| Overall experience: | (5 / 5) |
| Average: | (5 / 5) |